Americas Boating Course teaches you to be a better and safer boater

If you were born on or after January 1, 1988 the state of Florida requires you to have taken a NASBLA approved boater safety course to operate a boat or any personal watercraft. Sometimes called a boating license, this card identifies you as having taken and passed the Florida boating safety class.
Americas Boating Course boater safety class material is divided into five chapters. The first four chapters cover the required topics that all boaters must know. These include the rules of the road, required safety equipment (get a free vessel safety inspection), navigation aids, lights and sounds, anchoring, communications afloat, adverse conditions, water sports safety, trailering and personal water craft operation.
The fifth chapter deals with using charts and basic coastal navigation which we often cover in a separate session for those who wish to learn more than the minimum requirements.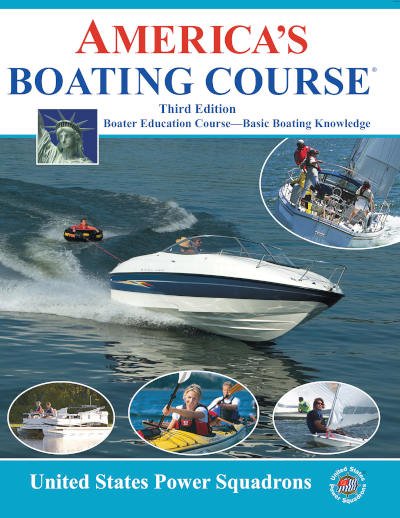 Along with the textbook Tampa Power Squadron will provide a number of  additional items. These will assist the student in meeting the United States Coast Guard and other requirements as well as expanding their knowledge.
Upon passing the final exam, the Tampa Power Squadron will process all the paperwork required for you to receive your state issued boater safety ID card.
The course is broken into two consecutive days, Saturday and Sunday June 5 & 6, with the final exam at the end of the second classroom session. The exam consists of 2 sections, one for general knowledge and another about Florida specific boating laws. During the course, students will have the opportunity to practice their boat handling skills using MuVIT, the Tampa Power Squadrons interactive trainer (time permitting) which allows the student to operate a virtual vessel in a realistic virtual marine environment.
America's Boating Course is recognized by the United States Coast Guard and is approved by the National Association of State Boating Law Administrators (NASBLA).
Our next class is scheduled for June 5th and 6th from 9 am to 3 pm both days. It is being held at the FOP Lodge 27 located at 6912 N. Florida Avenue in Tampa.
The cost is $55 for an individual or $85 for 2 who share the textbook. First responders and military are free.
All the instructors are fully vaccinated.
We recommend you bring a lunch with you as we use the lunch time for review and discussion.